LOOK AROUND
- Puerto Rican 1997 Festival, Meriden, CT -
flag raising at city hall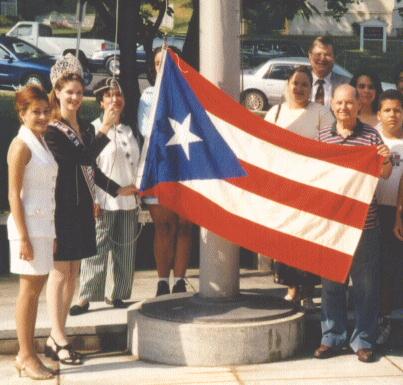 Amy Ann Gonzalez-Viger, Miss Puerto Rico of Meriden 1997,
raises flag of Puerto Rico at Meriden's city hall.
Looking on are Miss Meriden 1997, Marissa Perez (left), Amy's mother, Bethabeth,
and Rosa Agudo (behind flag); along with committe President Francisco Velez (holding flag), City Manager Roger Kemp (rear), Lorraine Collazo, Nancy Rios and Pedro Velez (right).

Flag of Puerto Rico Raised at
Meriden, Connecticut City Hall
Puerto Rico and Meriden unite.

Today, July 8, 1997, at Meriden's City Hall was the raising of the Puerto Rican Flag in honor of the 30th anniversary of Meriden's Puerto Rican Cultural Festival. This year's festival will be held Sunday, July 13th, at Hubbard Park Bandshell area from 12-8 p.m.

Mayor Joseph Marinan and Roger Kemp, City Manager, were present along with 1997 Miss Puerto Rico of Meriden, Amy Ann Gonzalez-Viger and 1997 Miss Meriden, Marissa Perez.

The flag will remain on the city hall pole along with the American flag for the month of July.

Also present at this historical event were: Committe President - Francisco Velez and his nephew Pedro Velez; Felino Pagan - Vice-President and Meriden Puerto Rico Father of the Year; Nancy Rios - Secretary; Lorraine Collazo - Festival Coordinator; Lisa Rivera - 1st Runner-Up (Miss Puerto Rico of Meriden); Rosa Agudo; Mr Luis Perez; and Mr and Mrs Philip Viger - parents of Amy.

For further information, please contact Lorraine Collazo at (203) 235-9953.

Thank You! ... for visiting L

K AROUND - you're always welcome.

** We can put your message on the Web **
please e-mail philviger@bigfoot.com
or call (203) 235-0528

[ awards ] |:| [ bookmarks ] |:| [ cartoons ] |:| [ find me ] |:| [ guest book ]
[ link to us ] |:| [ Meriden, Connecticut ] |:| [ message board ]
[ mind your Ps and Qs ] |:| [ name these tunes ] |:| [ neighbors ]
[ search engines ] |:| [ surprise sites ] |:| [ swell ] |:| [ virtual highways ]

modified for latest internal links December 2, 2001
modified to reflect new .com URL May 25, 1998
created July 8, 1997
http://www.lookaround123.com/prflgmdn.htm

110397:

052598:

120201: